Corporate Services
Kopystop understands the process of print procurement is very different for small to medium businesses, through to corporate enterprise. When you engage Kopystop for any print project you are engaging the entire Kopystop Krew. Each with detailed knowledge of your project and in a position to assist with any enquiry, at every stage from design to submission to print through to completion. The Kopystop Krew are qualified print professionals and experienced to handle any sized project, be it small or large.
Most orders completed same or next day!
Uncompromising Quality with SPEED...
Print partnership
We love to print + you need to print = print partnership.
We develop a long term relationship with every client. We listen, we interpret every detail of your print specifications and collaborate with you to collectively achieve the best result. We want you back, as with any relationship we promise to communicate, take ownership and commit.
Complimentary consultation service
Kopystop is a full service Design, print and document finishing enterprise. Our aim is to work with you towards your goals in achieving the best possible print output, finished to perfection. Our complimentary print consultation service is tailored with the client in mind.
The consultation process is targeted at tailoring the best solution, subject to your brief and print specifications. We will review and discuss in great detail your intended audience, concept, design, stocks, print and full finishing options and address any questions which may arise in the due process. This consultation process has proved to be a great success with many of our loyal clients providing positive feedback about the speedy turnaround and production cost savings.
We encourage all clients to use this service well ahead of design stage, as this will guarantee an accurate, high quality finished product in the shortest possible time frame and within budget.
Contact us via the Quote Form page, by email or phone to discuss your printing brief and specifications.
Visit our Services page for a comprehensive list of all the services provided by Kopystop.
Guaranteed quality
Kopystop guarantees the quality output of every printed and finished product. We guarantee all our prints and finishing because we use the best in Fuji Xerox Australia (FXA) print production systems which incorporate multi award winning print engines, along with their complementary print finishing systems. All production print equipment is coupled with industry leading FXA Free Flow RIP's to provide excellent ripping speeds, accurate, consistent and X-rite calibrated colour output every time. Our printers are calibrated daily, just prior to printing each order to ensure each image printed from first to last is identical.
The Free Flow suite of production software has been designed by FXA in consultation with Adobe and Microsoft to ensure seamless and accurate productivity from file generation to print. Adobe is a leader in software within the graphic design industry, most notably the innovator and developer of Postscript which was followed up with the development of Adobe Acrobat. Acrobat caused a global phenomenon in its uptake as the most preferred document submission format for professional print. This leads to peace of mind with the knowledge that your files are being processed, printed and finished using the best in class industry leading equipment and software.
For guaranteed optimum print results, always supply Kopystop with
high resolution print ready PDF files.

Here are some samples of binding and finishing
For the environmentally conscious
Rest assured, so is Kopystop!
We operate under strict environmental and sustainable guidelines, from sourcing, purchasing, operating, servicing and disposing of equipment and waste paper. All paper and card products are sourced from the Programme for the Endorsement of Forest Certification (PEFC) and Forest Stewardship Council (FSC) certified suppliers and contain a variable percentage of recycled content. Many of our paper stocks are also certified as being carbon neutral. For every tree used in the manufacture of paper, another tree is planted.
Visit our Sustainability page for more information.
Copyright
Kopystop operates under strict Copyright guidelines and does not accept to print any copyrighted materials without the prior written legal consent of the publisher and author of any copyright protected documentation.

For further information in relation to copyright matters, we suggest you seek legal advice from a copyright lawyer or Copyright Agency. Kopystop will not be held responsible for the checking or advising on any copyright related documentation printing.
For detailed information refer to the Copyright Act 1968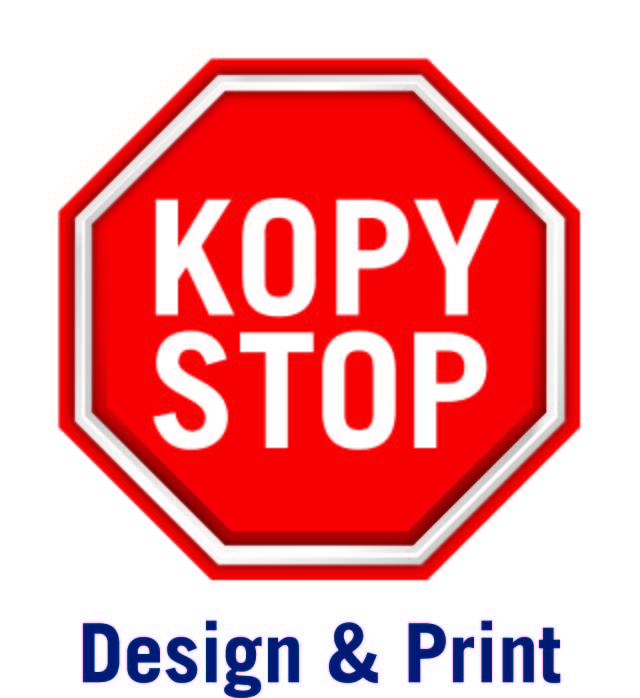 We Design. We Print. We Create
We love what we do! The Kopystop Krew