Sustainability
At Kopystop we take our responsibility over the environment alongside sustainability, very seriously. We encourage, support and contribute in development for a sustainable future.

Kopystop have adopted a strict company policy and selection of award winning GRI Gold Community Member equipment and paper suppliers. Kopystop have chosen Ball and Doggett and Spicers paper merchants as premium supplier for their strong ethics and ongoing development of environmental and sustainable responsibility. Kopystop is always looking out for new and innovative initiative's to maintain and improve environmental policies.
Kopystop initiatives | environmental practices and sustainability:

♦ Recycling up to eight 240 litre Sulo bins worth of paper and cardboard waste per week through Sydney Waste Services.
♦

All paper ream wrappers, waste papers and cardboard are collected by Sydney Waste Services twice weekly to create recycled paper and cardboard products.

♦

Paper and card stocks used for printing are manufactured from 100% plantation fibre and compliant to International standards ISO 9706, ISO14001, Environmental Management Systems (EMAS) and produced from elemental chlorine free pulp and is certified as carbon neutral.

♦

All paper is sourced under the strict guidelines of Programme for the Endorsement of Forest Certification (PEFC) and Forest Stewardship Council (FSC) certified paper stocks.

♦

All print, finishing and IT equipment has been selected with energy conservation as a key selection priority.

♦

All equipment has been designed with the environment in mind from the design stage to product development through to manufacture and supply, must comply with strict international environmental practices. In most instances it will later facilitate the re-manufacture and recycling of used machines and parts.

♦

All used parts including toner cartridges removed from FX print and finishing equipment is placed in a recycling box which is collected weekly and returned to the FXA re-manufacturing and recycling plant. Therefore not one used part or cartridge is ever disposed of in a rubbish bin or ends up in landfill.

♦

At end of life, all FX print and finishing equipment is broken down and used in the re-manufacture and reusing of spare parts to reduce new resource input and the carbon footprint of new product manufacture.

♦

All our print equipment uses a more energy efficient EA-ECO toner developed and manufactured by FX which can be fused to paper at a temperature more than 20 degrees Celsius lower than most conventional toner, resulting in up to 40% reduction in power consumption.

♦

We aim to maintain key environmental and sustainable practices in fulfilling our obligations to a greener and healthier world, workplace and print market place.
All paper used at Kopystop has a variable percentage of recycled content. Upon request, we can accommodate up to 100% recycled* paper stocks and card.

*Terms and conditions and minimum quantity order applies for all 100% recycled stock .

Please contact any of our experienced Kopystop Krew.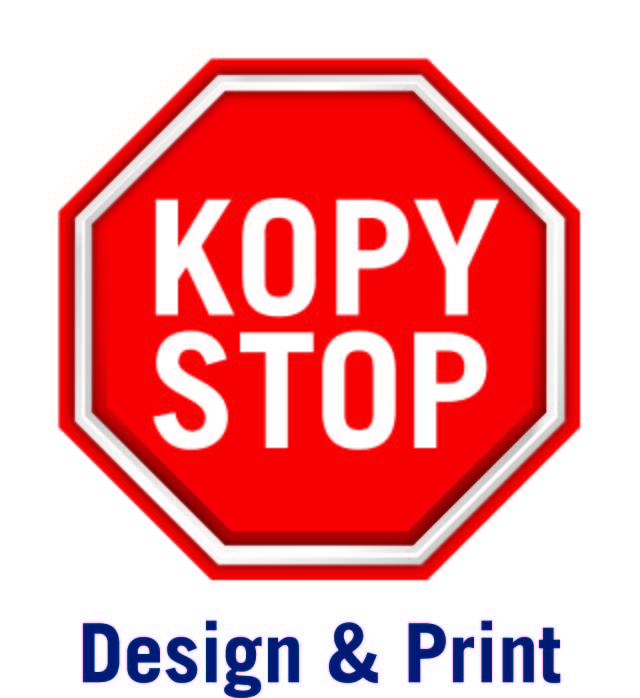 We Design. We Print. We Create
We love what we do! The Kopystop Krew