Services
Kopystop - printing since 1984 with decades of experience; The Kopystop Krew, all trade qualified and specialists in providing:

Most orders completed same or next day!
Uncompromising Quality with SPEED...
Services not limited to:
premium publications, booklets, bound books and magazines, business cards and all business stationery, documents, marketing and promotional collateral, small run, on the spot, plus an array of partnered supplier products, such as large format, banners and embellishment all with free consultation service:
Digital Printing CMYK
Ultra High Definition (HD 10 bit) Digital print
Offset Printing CMYK UV Offset print
Graphic Design and Editing Adobe suite of products
Large Format Print
Flat Bed Print onto hard substrates
Pull Up Banners with stand
Premium Black and White printing
Premium Thesis printing
Colour copying
Black and White copying
Document scanning

Terms and conditions and minimum charges apply to all services.


Contact us via our Quote Form, by email or phone to discuss your printing requirements. We will respond promptly to discuss in detail the best options including print techniques, paper stocks and finishing options.

The Kopystop Krew offer a complimentary consultation service. We encourage our clients to book a consultation before design stage, as this will guarantee a high quality finished product in the shortest possible time frame.
Print files and finishing
Kopystop print PDF files supplied via email attachments, DVD, CD, USB flash drive, Dropbox and other similar utilities. For the submission of your files, visit the Quote Form page on our website, complete all fields and upload your file(s). For professional print and finishing output, supply a high resolution print ready PDF file.
For a full list of print file types and specifications on how to supply a print ready file to Kopystop, visit the Print Tips & Hints page on our website.
Document finishing services include:
View samples of binding and finishing here

Binding including - plastic comb, metal wire, spiral, thermal tape and perfect binding

Celloglasing

(conditions apply - please enquire )
Collation and assembling
Creasing and Scoring  - to minimise cracking on folds (also known as scoring)
Folding - standard and custom folds
Guillotining
Hole punching – only 2 or 4 hole (in-line finishing)
Laminating - standard sizes up to maximum A3
Padding

Perforation

Printed tabs - Standard and Custom sizes

Saddle stitched booklets – folded to A4, A5, A6 or custom sizes
Spot UV and SCODIX (conditions apply - please enquire )
Stapling – various styles and positions available
Sample list of what Kopystop produce:
♦
Annual Reports

♦
A Frames with corflute inserts
♦
Banners - indoor / outdoor

♦
Booklets - A6 to A4 size and custom
♦
Brochures – standard to custom sizes
♦
Business documents
♦
Business Cards
♦
Cards - Greeting Card, Christmas Card, Custom Card

♦
Catalogues
♦
Certificates
♦
Flyers – standard to custom sizes
♦
Invitations – all sizes
♦
Magazines
♦
Magnets

♦
Menu's
♦
Newsletters
♦
Postcards
♦
Posters

♦
Price lists
♦

Pull Up Banners

♦
Reports
♦
Scodix and Spot UV

♦
Signage Rigid Foamboard and Corflute

♦
Tertiary and university teaching notes and handouts
♦
Thesis printing – premium quality, soft cover binding only
♦
Teaching and training manuals
♦
Zines
Why choose Digital Print?
♦
One is the minimum you can print
♦
Fast service and quick turnaround
♦
Print on demand: print only what you need as you need
♦
Cost effective, economical for short to medium runs
♦
U

sing latest digital print technologies for offset like quality at a fraction of the price
♦
Eliminates warehousing and storage, therefore no wastage equals cost saving
Currently Fuji Xerox Australia (FXA) is our preferred print technology supplier, we have invested in their award winning print production systems, coupled with industry leading suite of FXA Free Flow document editing and management software. Our specialised PDF workflow empowers Kopystop to provide the highest offset like quality on a vast range of coated and uncoated stocks with ease, simplicity and speed.
University and Tertiary printing services
Kopystop can cater to all printing needs for the Education sector, including the printing and distribution of Student Notes and Readers.
If the Educational Institution where you teach has a CAL Licence Agreement we can provide copyright compliant printing, provided you have met all the necessary compliance as stated by your Institutions Copyright Office or CAL Advisor.

This service offered by Kopystop is provided under the strict guidelines of CAL as per the licensing agreement undertaken by the University or tertiary institution. For more detailed information about this service, please contact us for an in depth discussion.

Copyright
Kopystop operates under strict copyright guidelines and does not accept to print any copyrighted materials without the prior written legal consent of the publisher and author of any copyright protected documentation.

For further information in relation to copyright matters, we suggest you seek legal advice from a copyright lawyer or Copyright Agency. Kopystop will not be held responsible for the checking or advising on any copyright related documentation printing.
For detailed information refer to the Copyright Act 1968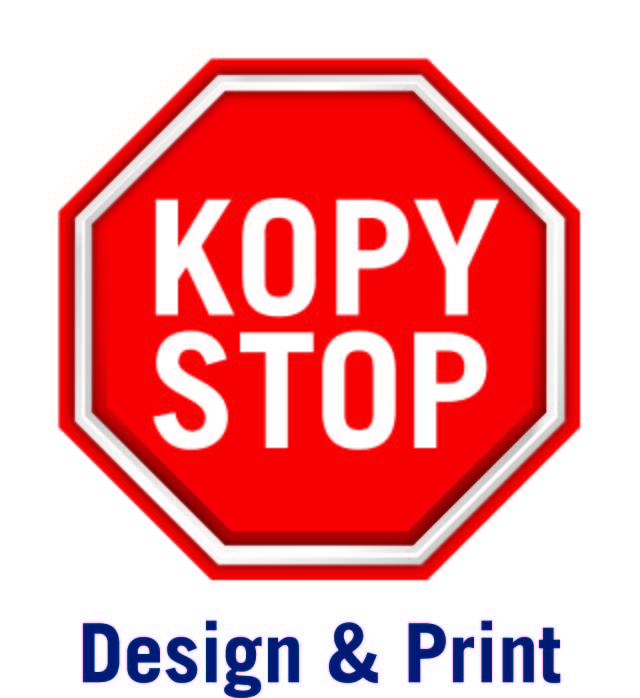 We Design. We Print. We Create
We love what we do! The Kopystop Krew