Services not limited to: premium publications, booklets, soft bound books and magazines, business cards and all business stationery, documents, marketing and promotional collateral, small run, on the spot; plus an array of partnered supplier products, such as flat bed hard substrates, extra long and wide outdoor banners plus multiple embellishment options all with a free consultation service:
Digital Printing CMYK Ultra High Definition (HD 10 bit) Digital print
Offset Printing CMYK UV Offset print
Graphic Design and Editing Adobe suite of products
Large Format Print
Pull Up Banners with stand
Posters / Banners / Vinyl Stickers
Vinyl Top Cut / Kiss Cut
Print onto hard substrates like foamboard / corflute
Premium Black and White printing
Premium Thesis printing
Colour copying
Black and White copying
Document scanning
Binding and Booklets
Finishing and embellishment
Terms and conditions and minimum charges apply to all services.
Contact us via our Quote Form, by email or phone to discuss your printing requirements. We will respond promptly to discuss in detail the best options including print techniques, paper stocks and finishing options.
The Kopystop Krew offer a complimentary consultation service. We encourage our clients to book a consultation before design stage, as this will guarantee a high quality finished product in the shortest possible time frame.
Document finishing services include:
Binding including - plastic comb, metal wire, spiral, thermal tape and perfect binding
Celloglasing (conditions apply - please enquire )
Collation and assembling
Creasing and Scoring - to minimise cracking on folds (also known as scoring)
Folding - standard and custom folds
Guillotining
Hole punching – only 2 or 4 hole (in-line finishing)
Laminating - standard sizes up to maximum A3
Padding
Perforation
Saddle stitched booklets – folded to A4, A5, A6 or custom sizes
Spot UV and SCODIX (conditions apply - please enquire )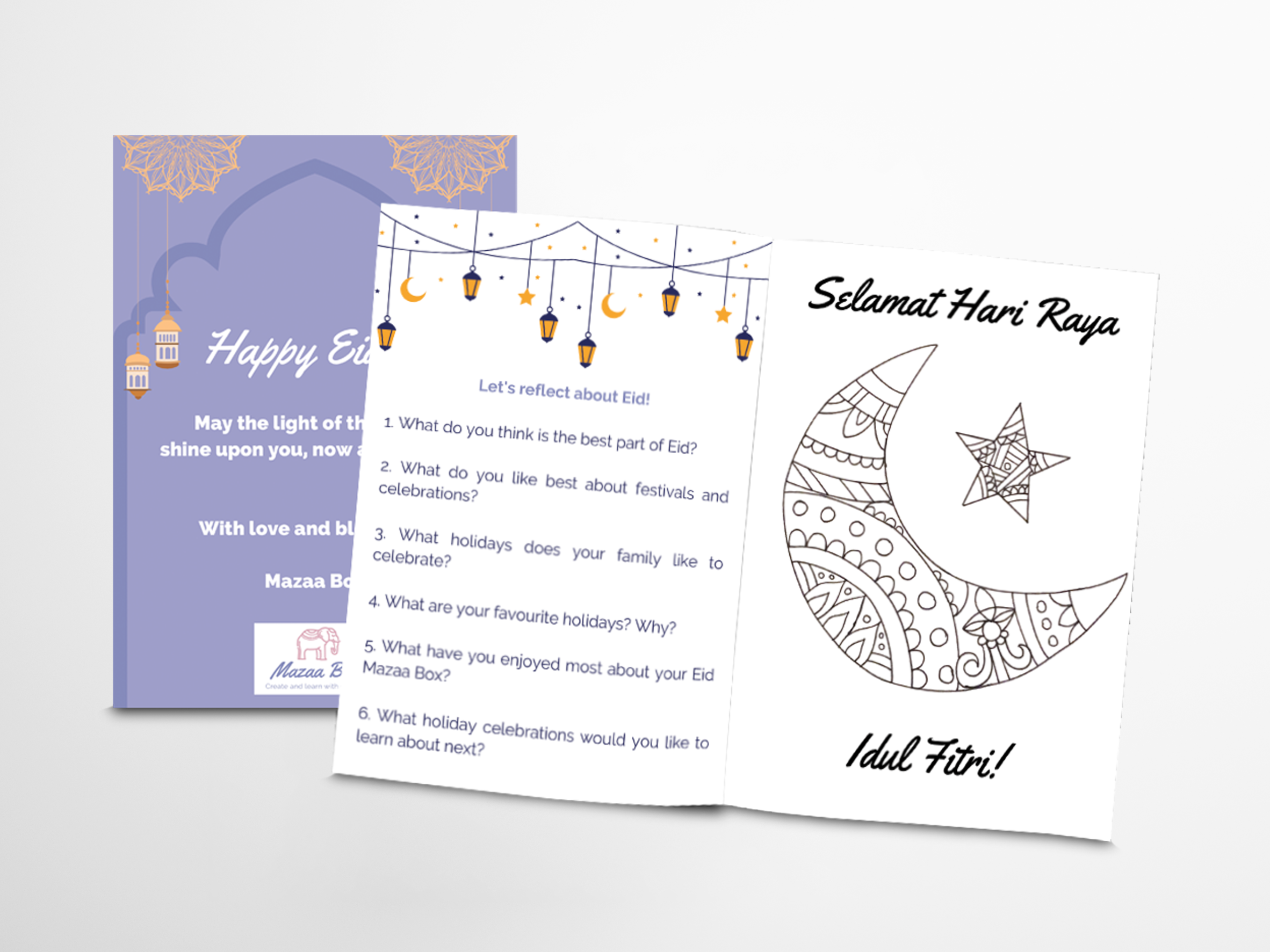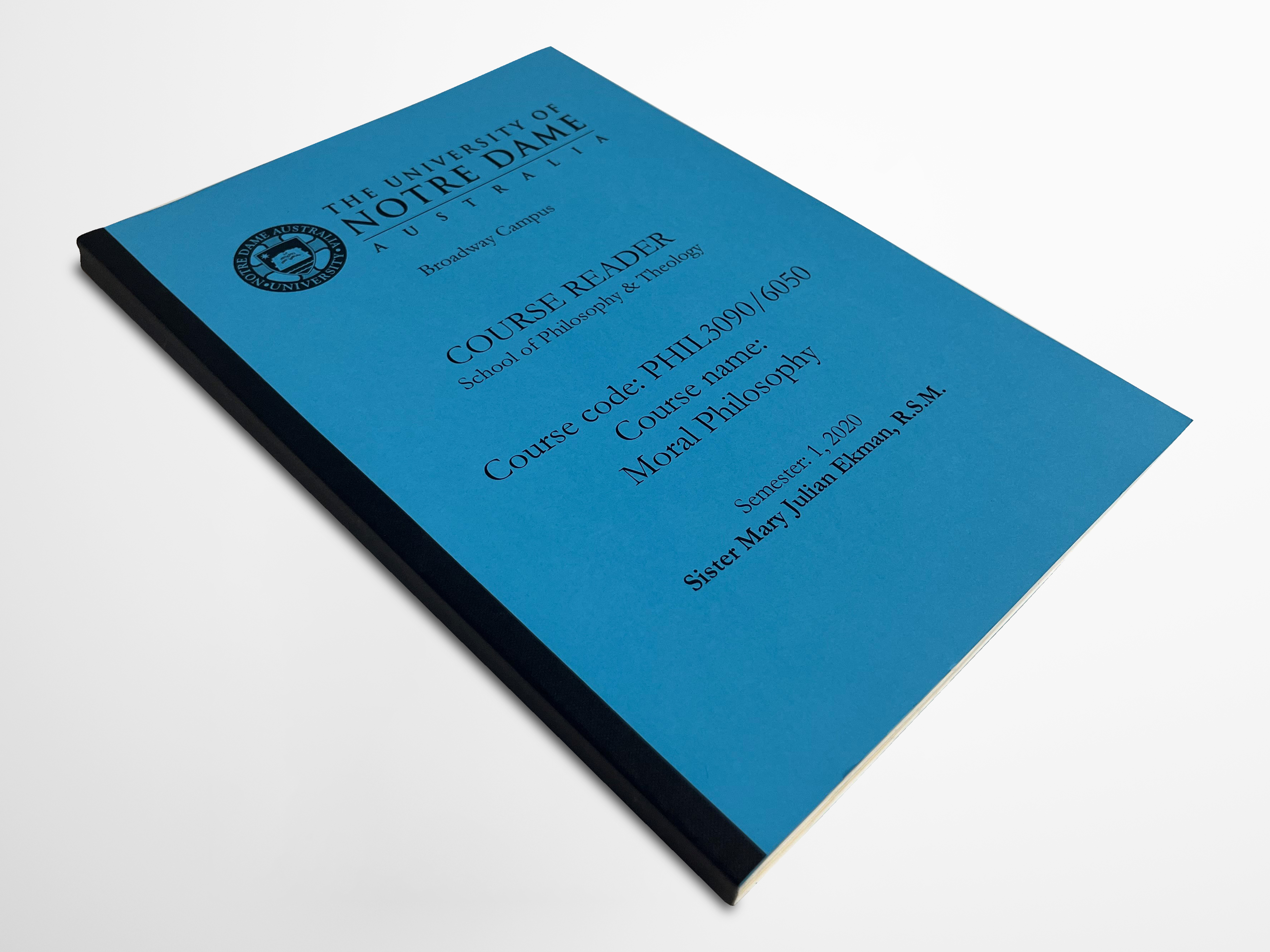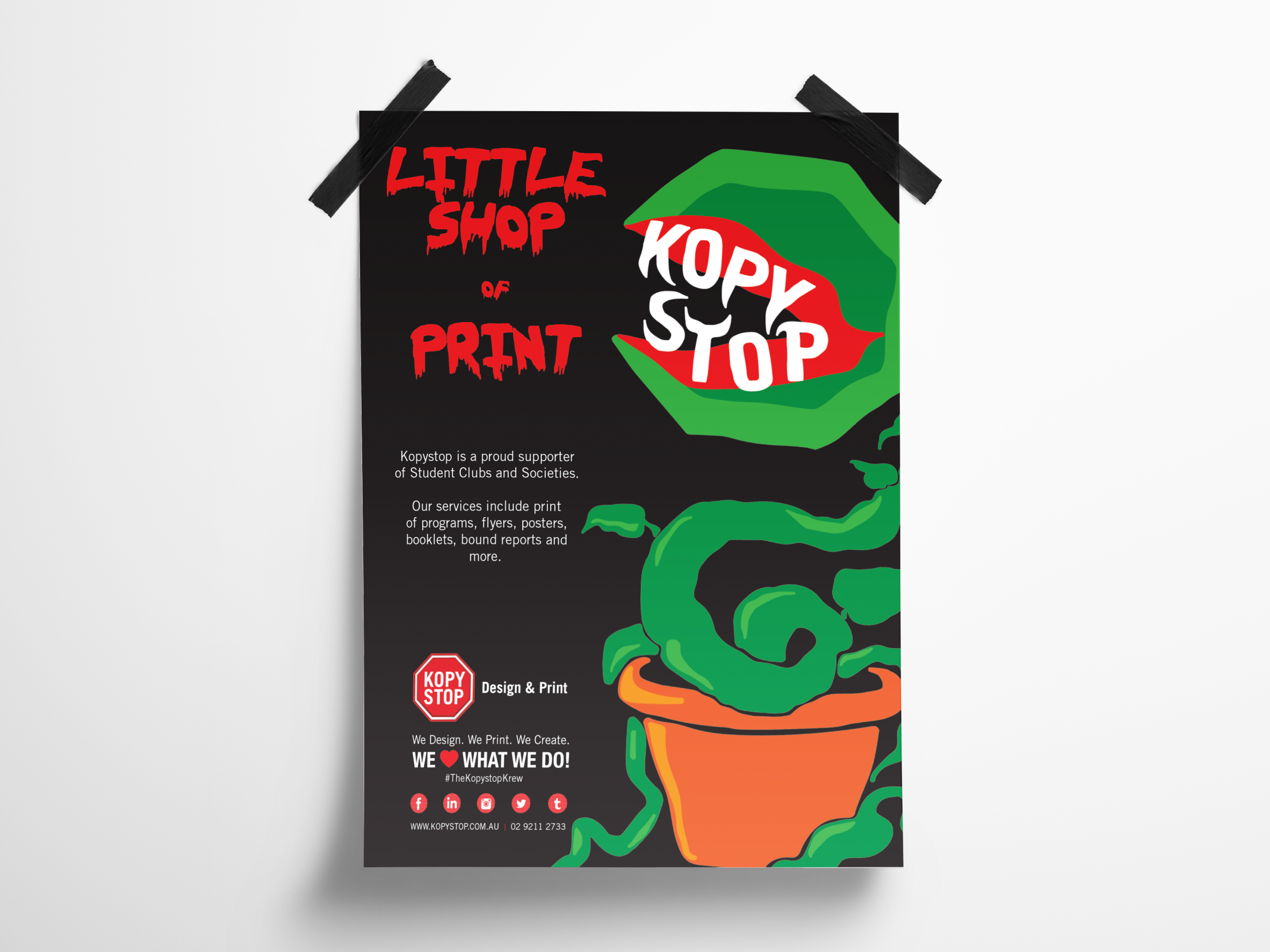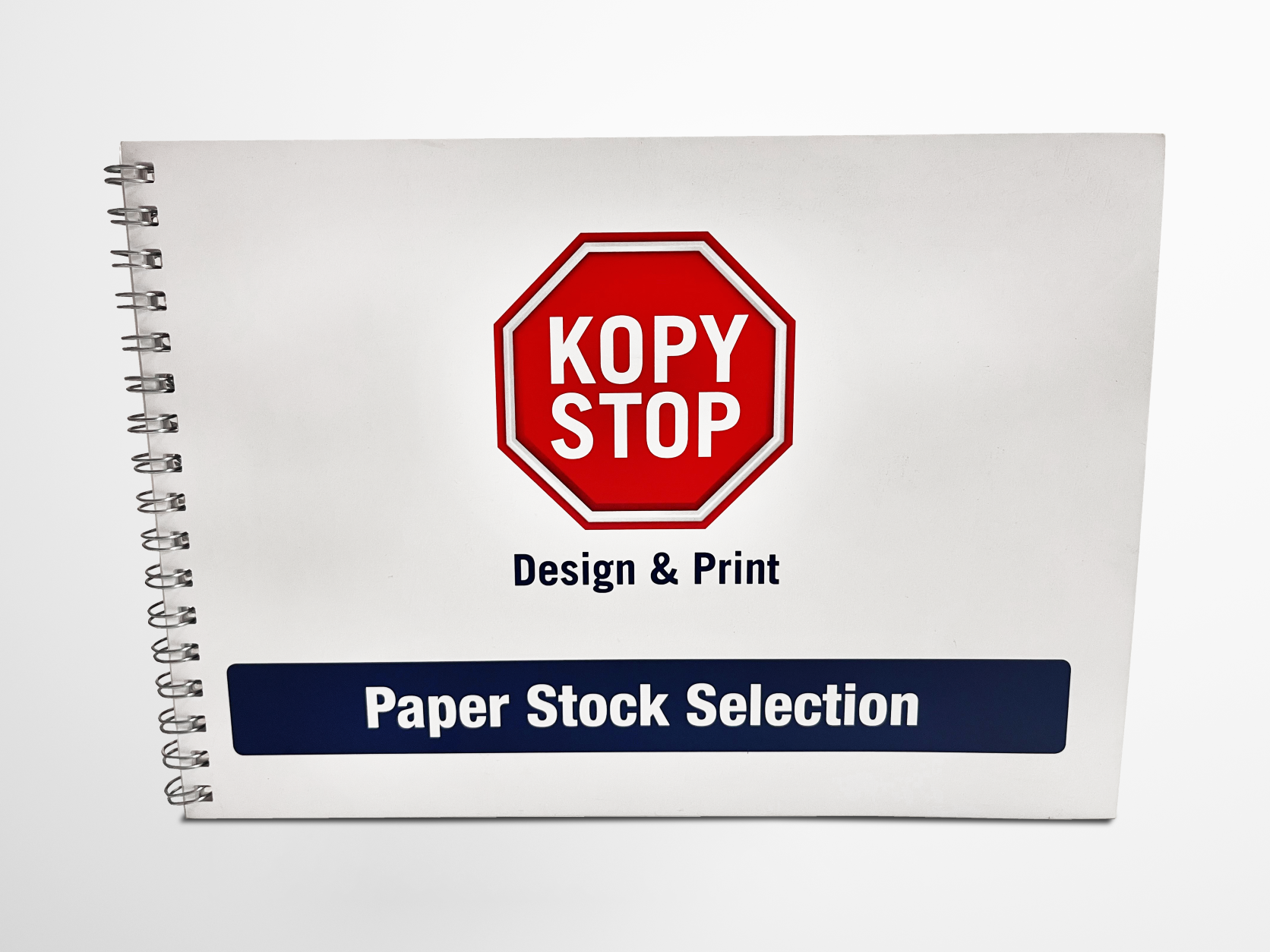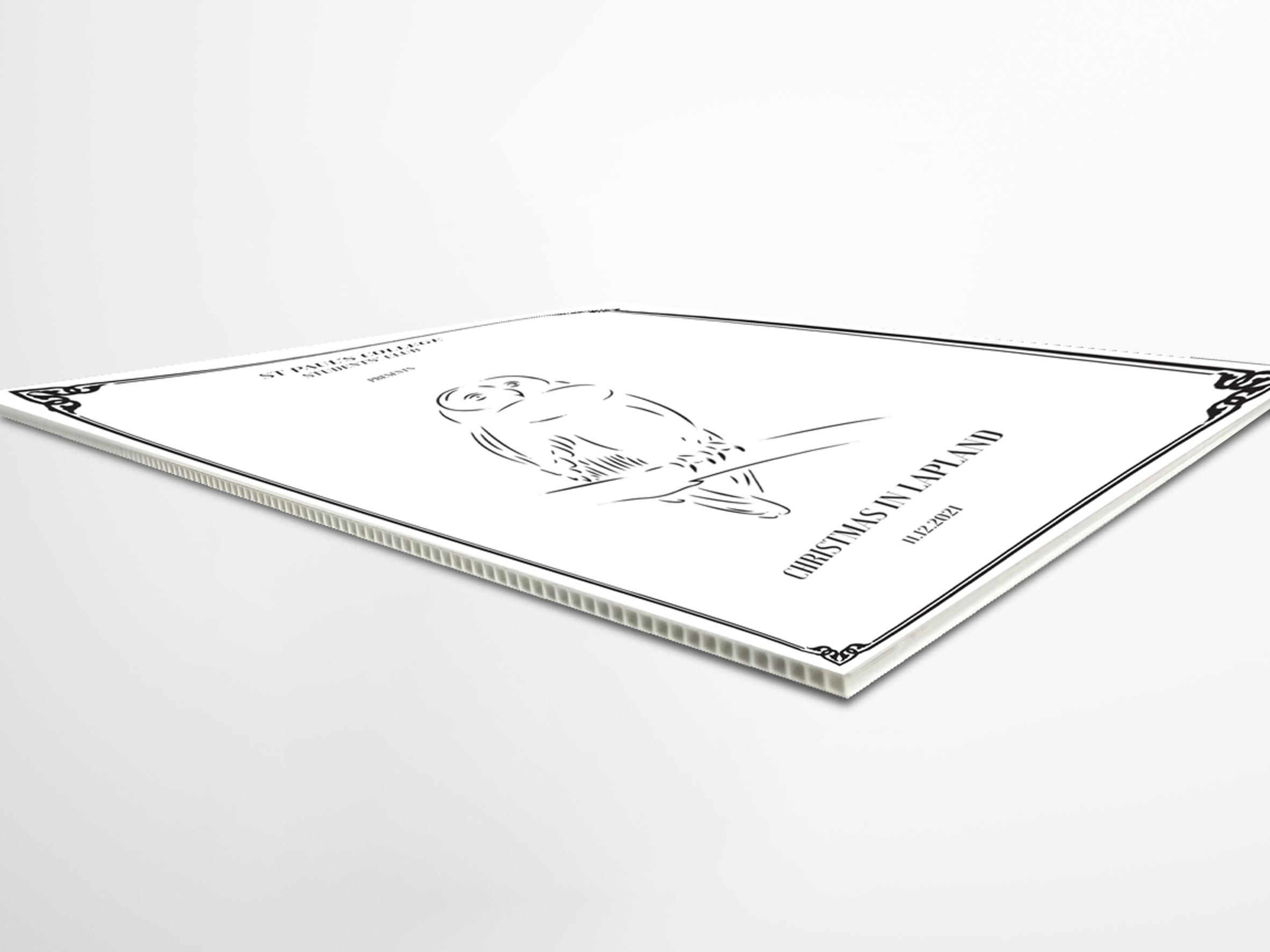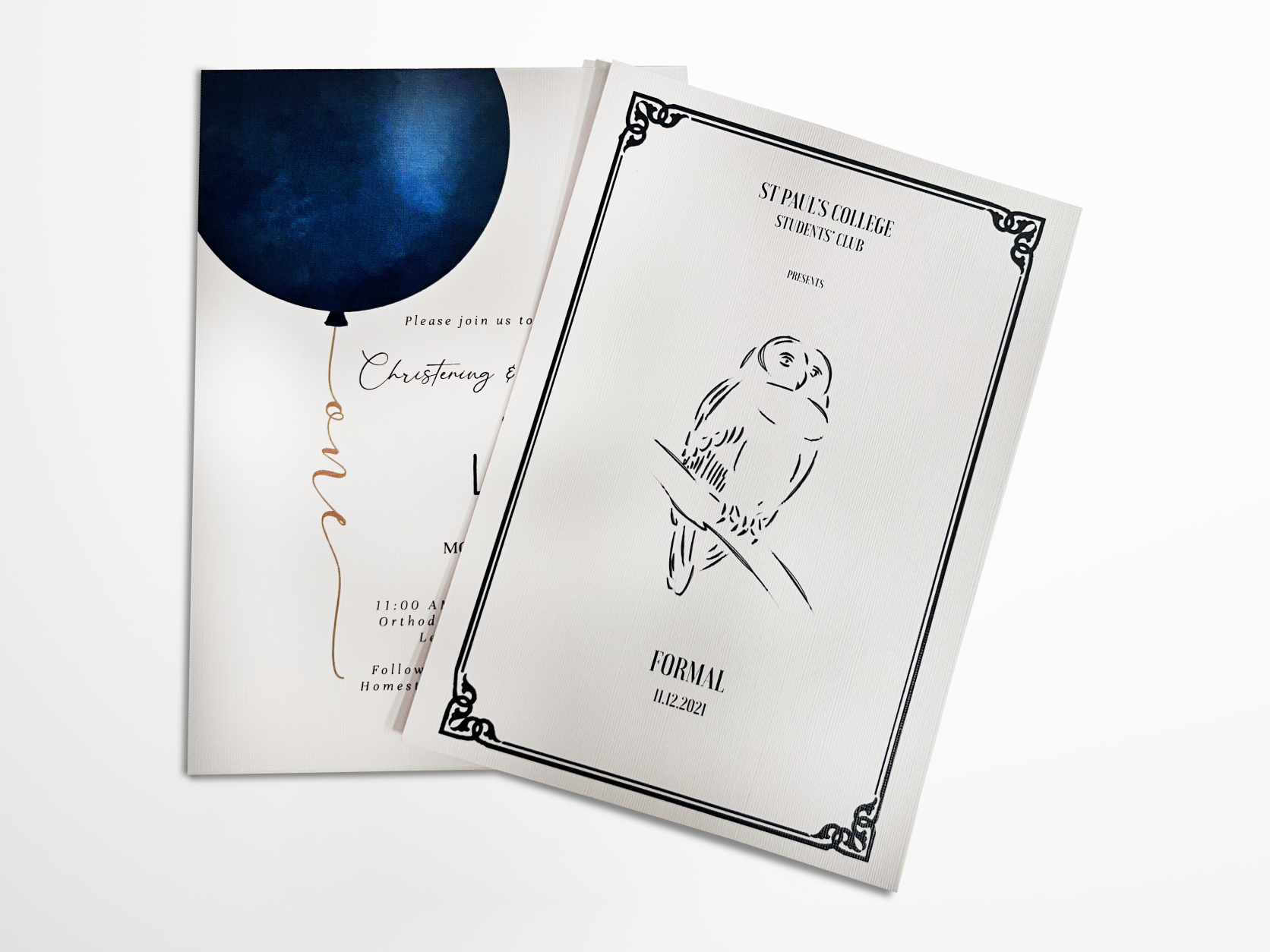 Annual Reports
A Frames with corflute inserts
Banners - indoor / outdoor
Booklets - A6 to A4 size and customs
Bookmarks
Brochures – standard to custom sizes
Business documents
Business Cards - Digital Print and Premium
Cards - Greeting, Christmas, Thank you cards
Catalogues
Certificates
Conference and events collateral
Envelopes
Flyers – standard to custom sizes
Funeral Booklets
Invitations
Letterheads
Loyalty cards
Magazines
Magnets
Menu's
Name badges
Newsletters
Place cards
Postcards
Posters
Presentation folders
Price lists
Pull Up Banners
Reports
Scodix and Spot UV
Signage Rigid Foamboard and Corflute
Stickers
Tent cards
Tertiary and university teaching notes and handouts
Thesis printing
Training manuals and documents
Wedding programs
Zines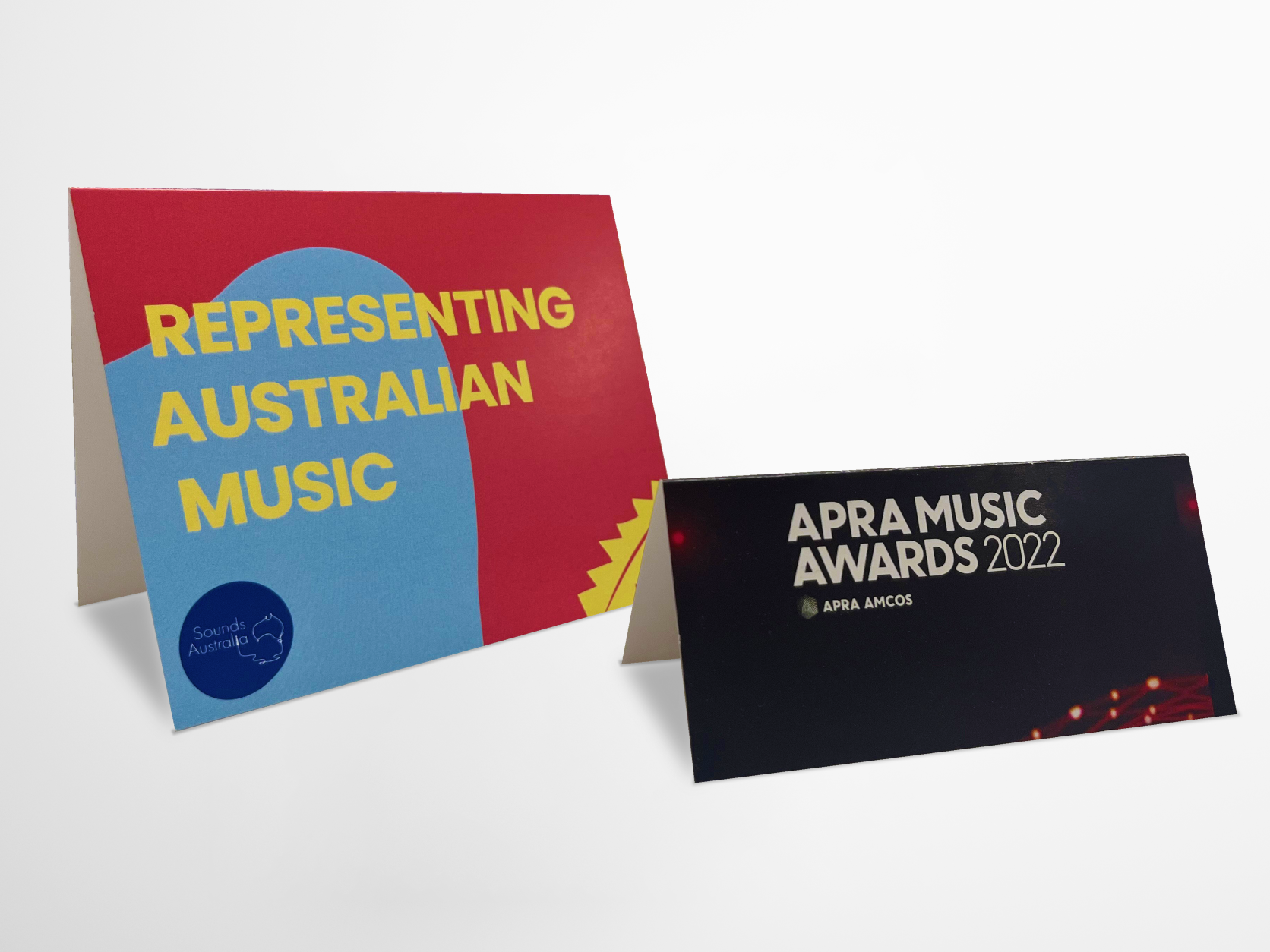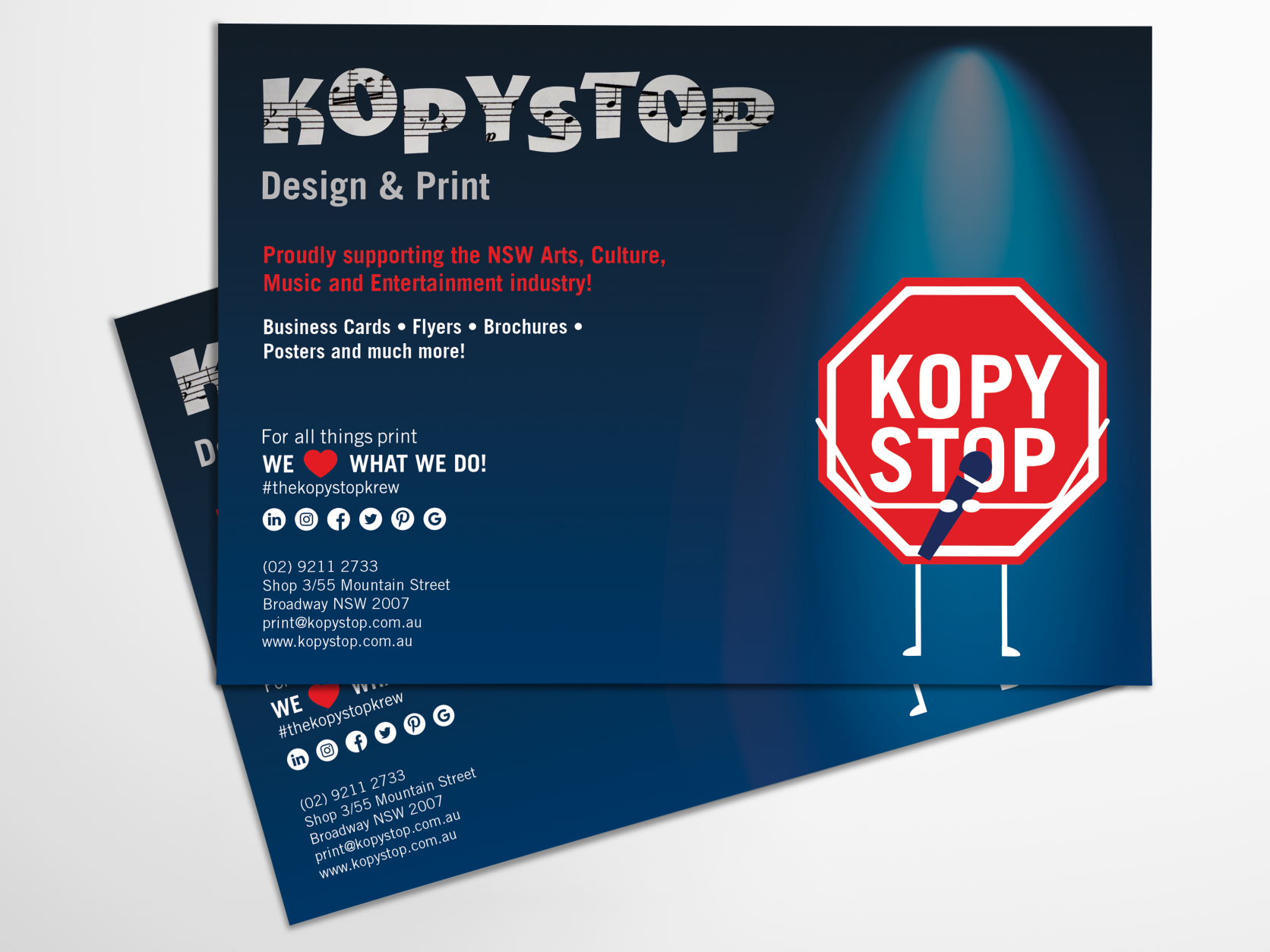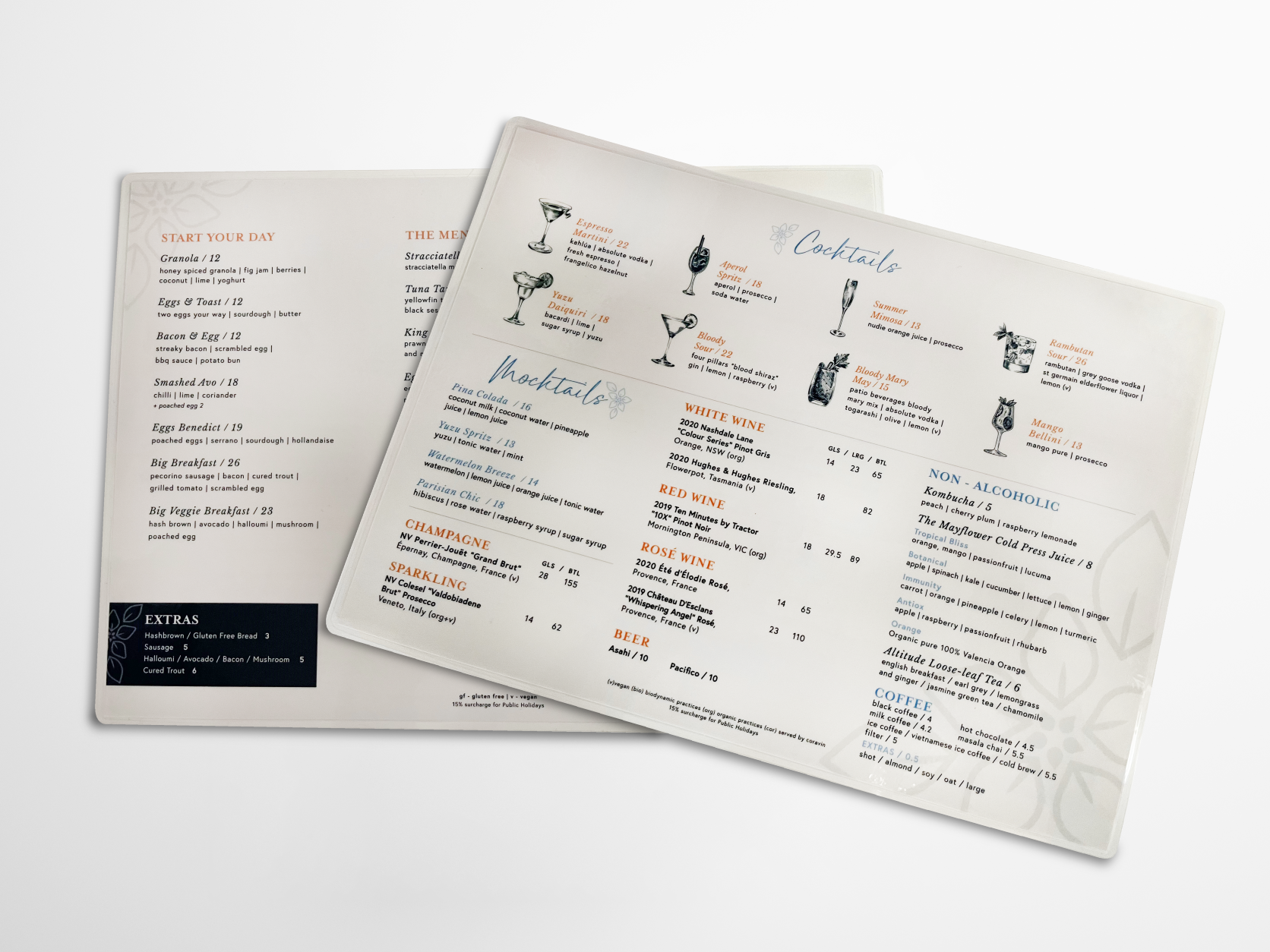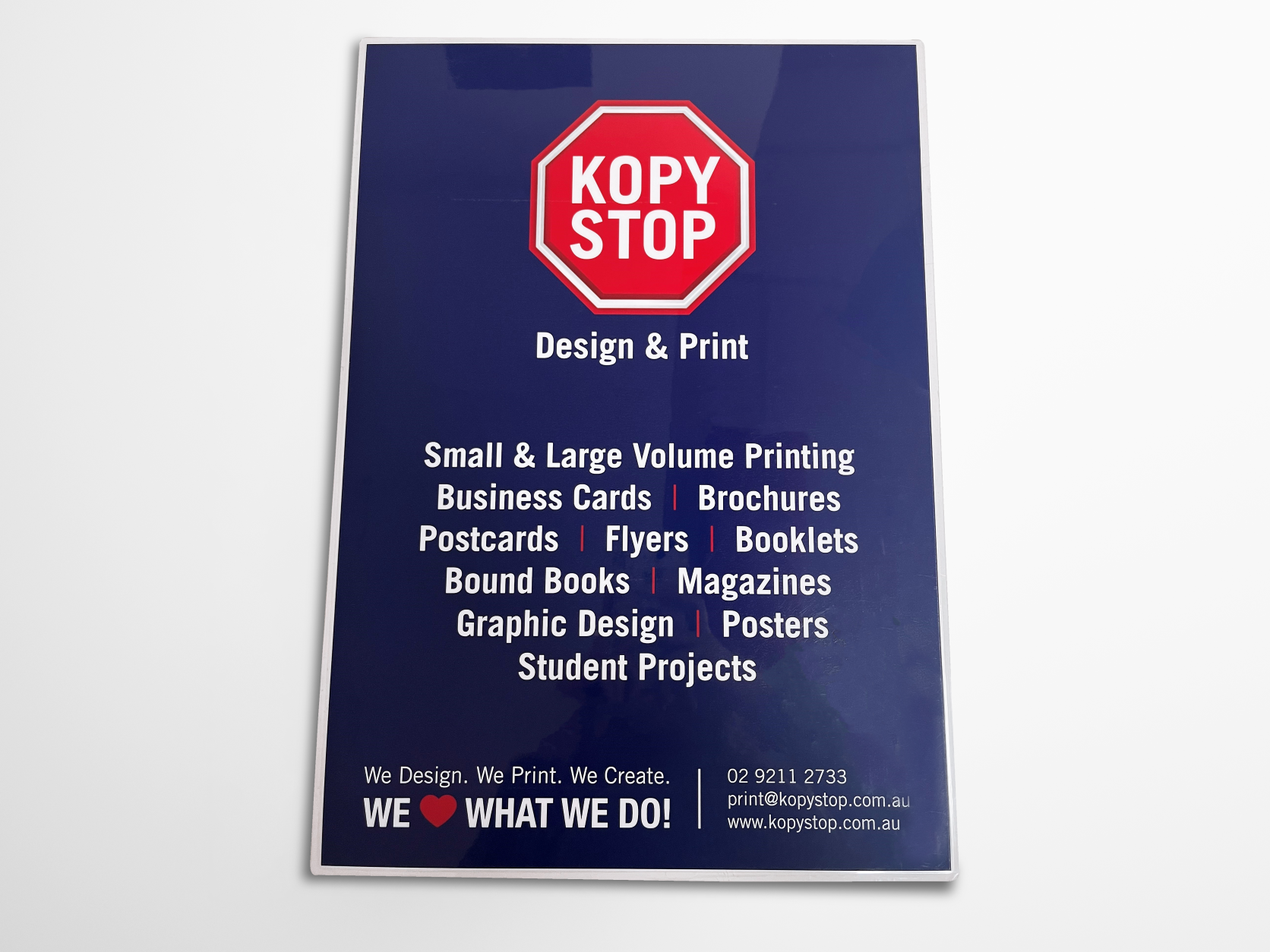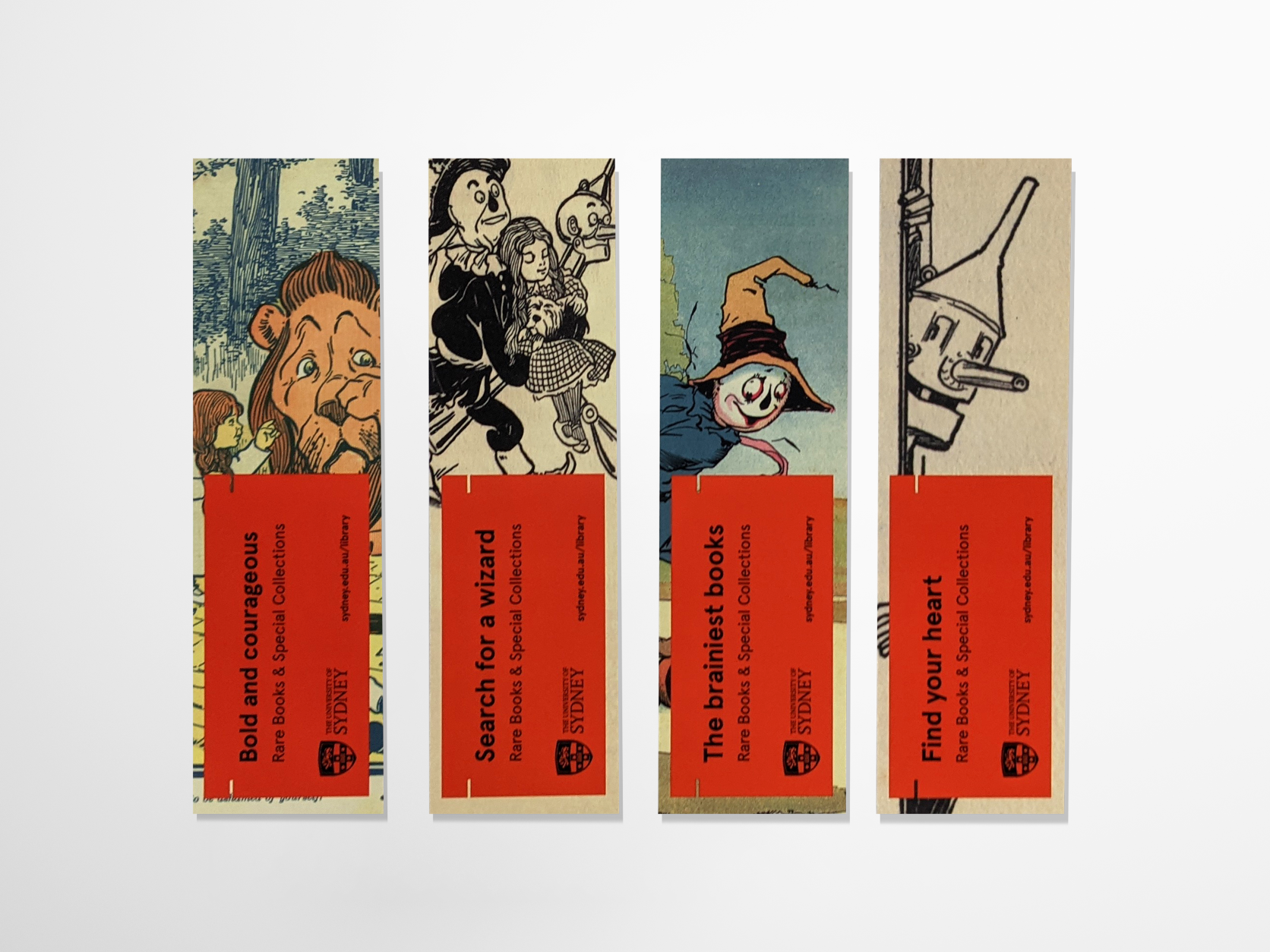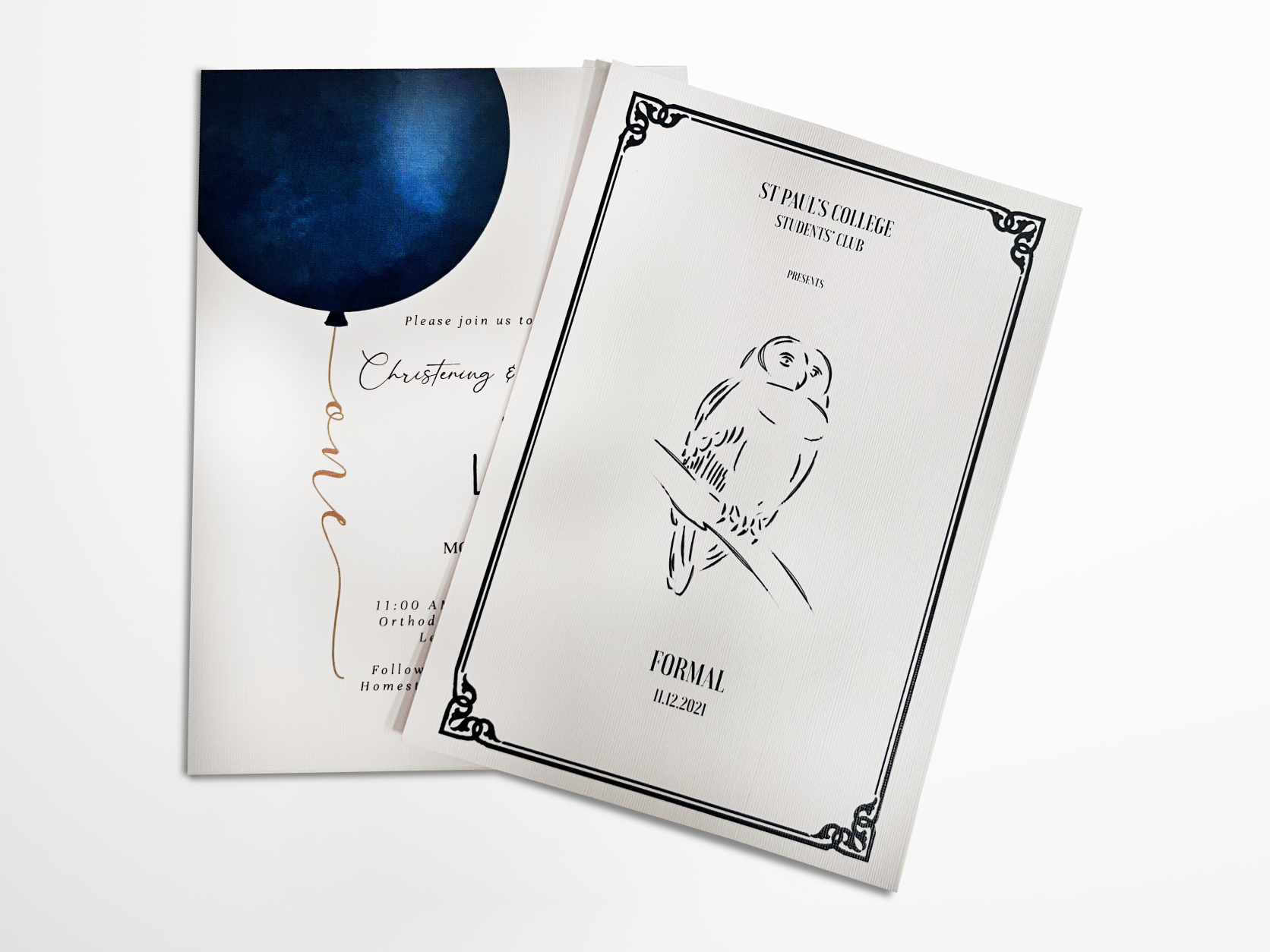 Copyright
Kopystop operates under strict copyright guidelines and does not accept to print any copyrighted materials without the prior written legal consent of the publisher and author of any copyright protected documentation. For further information in relation to copyright matters, we suggest you seek legal advice from a copyright lawyer or Copyright Agency. Kopystop will not be held responsible for the checking or advising on any copyright related documentation printing. For detailed information refer to the Copyright Act 1968